I recently blogged about my having
Botox
for the first time, as a treatment for my chronic headaches and migraines, and one of the things I was most excited about, was the possibility that I could wear hair accessories again! And I can! When I was younger, wearing hair accessories was totally my thing. I was known for huge hair bows and cat ears, and I was kind of heart broken when as my pain got worse, I couldn't wear them anymore.
But now I can... so I had to snap up a couple of bargains I found!
I discovered Roses & Clemetines on Depop and couldn't resist! They have beautiful flower crowns and bun flowers in beautiful colours, and make custom designs too. I grabbed this pastel rainbow headband for only £5 in a cheeky sale on Depop!
Aren't the colours just beautiful? Now my hair is my dirty blonde natural colour they stand out so well against it.
And I also picked up this pink bun flower for only £5 too! The bright pinks are lovely and really pop with my hair.
I popped my hair into a high pony tail, and made very loose rolls with sections of hair and roughly gripped them in place. I didn't want anything too 'perfect', with naturally curly hair I love messy up do styles.
It was a quick 2 minute job, and then the bun flower is secured round the bun with ribbon, and I popped a couple of extra grips into that to make sure it wasn't shifting too.
I am now lusting over aaaaaall the hair accessories and wishing I had a Fairy Godmother to buy me them all! :D
Ever since I saw that Sugar & Vice had teamed up with Janine Basil I had been lusting over this. It's an adorable sort of nerdy and I love all the colours!
When you think of flower crowns, you have to think of Crown & Glory! I love the colours in this and the wildflower, it's exactly how I wish I could get my garden to look.
Creepy cute brilliance, and available in glow in the dark colours, I need it!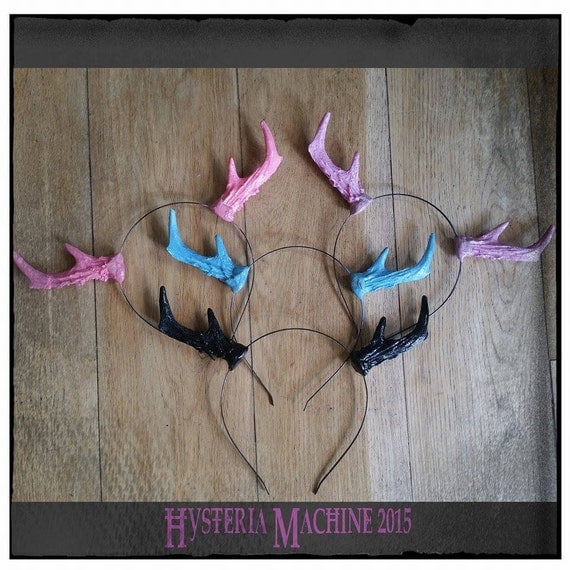 Hysteria Machine make incredible accessories, and these are one of the more suitable for regular wear... if you are like me at least! I love antlers and deers, and the pastel tones are so cute.
Where are your favourite places to shop for hair accessories? I'm so out of touch with them, I need links!
Much love,
Kitty xxxx