Your wedding rings are kind of a big deal. You and your loved one are going to wear them (hopefully) every day for the rest of your lives, so finding the right one for you is so important. Stu and I decided that we wanted to match, and as we have similar tastes in rings that worked out really well for us. We both prefer really chunky silver jewellery, and both wear a lot of rings, so our wedding rings had to fit in with our shared aesthetic.
We both plan to wear our rings every day, so comfy, silver and chunky were our major specifications. I prefer to use independent companies whenever possible, so an email to
Celia Rose
was the way to go! I went to school with Celia, so for someone we know to make our wedding rings is even more awesome. We're having chunky silver stamped rings, but haven't quite decided what phrase we want on them yet, we really should get that sorted!
Let's be honest, we're probably going to have a True Romance reference on them.
Traditionally a plain gold band is what most people opt for. Gold is hard wearing and considered a 'good' expensive metal. Silver is generally considered a lesser metal for wedding jewellery because it is cheaper. Well, screw that. Opt for the metal you both like the most. Hell, you don't even have to match. If you like rose gold and he likes silver, why not get a similar style to each other but in the different metals? You don't have to match. You can have different colour metals, different colour stones, totally different cuts and styles. It's fun to match, but also to totally contrast too! Don't feel you have to get traditional style wedding rings. Ours reflect our styles rather than being traditionally rounded smooth wedding rings, and I love that they'll be so 'us'.
There are plenty of bad ass companies that will make you the custom rings of your dreams these days. Celia Rose is making ours, and
BloodyMary Metal
also offer a wedding ring service too. They are a company we both love, but with Celia being local it made more sense to us to have her make our rings. We can make sure the sizes are correct and it's putting money back into the local community, so all good stuff.
You can have any shape you like, any style you like. Stu loves the idea of our stamped rings and his will be chunkier than mine as he doesn't have an engagement ring. But if he wanted something really chunky, something like the Lemmy ring above would be very 'Stu', or something from
The Great Frog London
. He has that more biker style, so a chunky ring is perfect, but if your fella is more of the hipster or fashion type, a wooden ring would be amazing! Totally different and unique.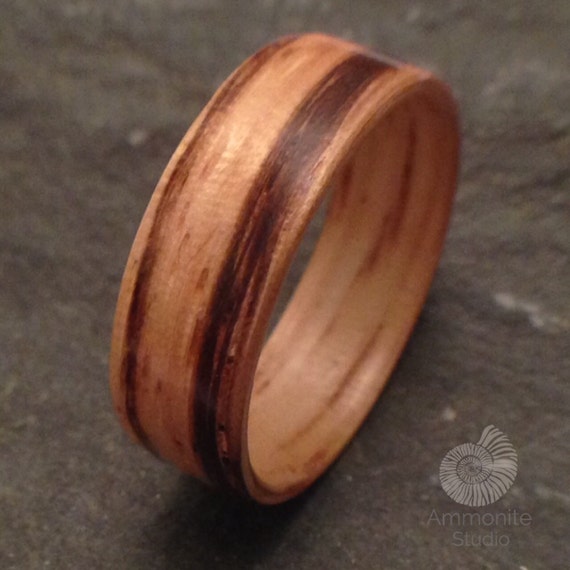 How cool are these? They make a great alternative to metals and are perfect for people who are more hippy-ish. And they are £45! You don't have to spend a fortune on your rings. Yes, they are forever, but who cares how much something cost? If you like it, go for it! We've had a few people ask why we aren't having white gold instead of silver because it's more expensive, and honestly, it's because we prefer silver and why spend more than you have to?
I think the important things to consider are the following - Comfort. Most people never take their rings off so you want them to be comfy. Style. You want them to reflect you. Practicality. Consider the details, something with little poking out sections is more liable to catch on clothing so is less wearable for every day.
At the end of the day, your wedding rings are for the two of you and no one else, so go for whatever you like, and don't worry about anyone else!
Much love,
Kitty xxxxx